Dining and Social Program for Seniors
Hot meals and social activities provided at four convenient locations.
All seniors are welcome to come out and enjoy a delicious meal and some camaraderie.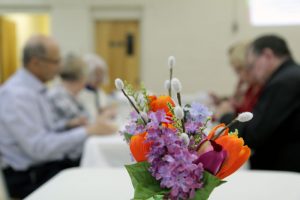 1-877-318-9678
Diner's Club Program is administered by Timiskaming Home Support / Soutien à domicile
Program Description
Diners' Club is a meal program offered to seniors 60+ years old. It is conveniently provided once a month in four locations in the District of Timiskaming. The program promotes healthy choices, serves hot meals and organizes activities in a friendly atmosphere. This program also promotes inclusiveness and diversity as well as age-friendly activities.
Seniors also learn about: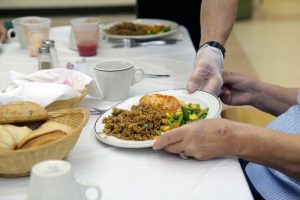 Nutritional information
Social support information
Educational information
Current events and trends
Transportation Services
Transportation may be arranged in advance through Timiskaming Home Support. Please inquire about cost.
Guests
Seniors may bring a friend, family member or neighbour.
Eligibility
Seniors who are 60+. Clients must register prior to the event. Call Timiskaming Home Support
Schedule
Cobalt: 1st Wednesday of every month
Haileybury: 2nd Thursday of every month
New Liskeard: Last Tuesday of every month
Kirkland Lake: Last Tuesday of every month
Locations
Golden Age Club – Cobalt
Tem. Pentecostal Church – Haileybury
Dymond Community Hall – New Liskeard
Crabby Patty's Family Diner – Kirkland Lake
Fees
A small fee is required to cover the cost of food preparation.
Diners' Club Volunteers
Timiskaming Home Support Diners' Club Program is successful because of its wonderful volunteers. If you wish to become a Diners' Club volunteer, please call: 1-877-318-9678 or apply online.
---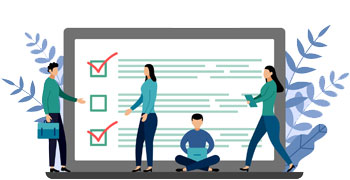 Service Application / Demande de Services