Area of Service
Timiskaming Home Support services an area from Sesekinika in the North to Temagami in the South, from Gowganda in the West to the Quebec border in the East. See our coverage map below for a complete listing of all the communities we serve.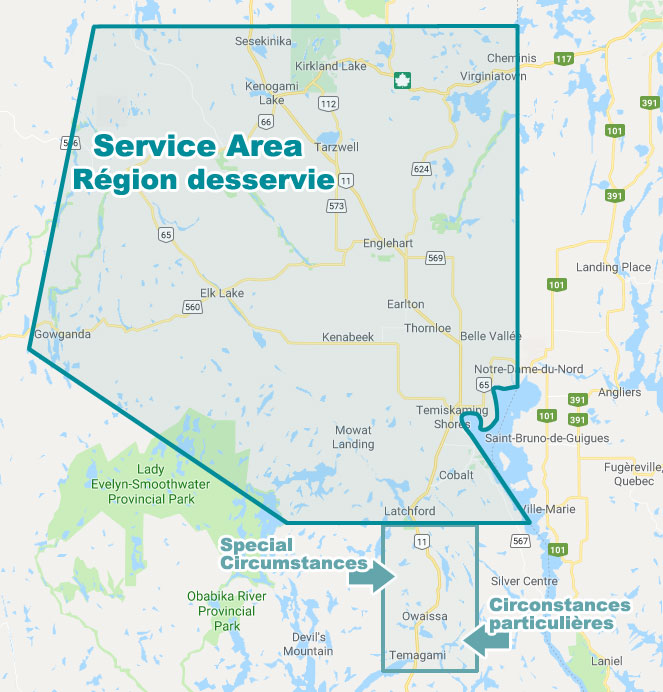 Mission and Vision
Vision
Living at home – your choice, our goal
To enable individuals to remain in their home environment of choice by providing services that are:
Accessible.
Quality driven.
Innovative.
Mission
To provide services that support the well-being of the elderly and adults with physical disabilities in the District of Timiskaming to enable them to remain in their home.
Values
Dignity and Compassion
THS believes that all people deserve to be treated with compassion and dignity while respecting each person's individuality and diverse cultures.
Autonomy and Empowerment
THS believes that clients and their caregivers have the right to make their own decisions and direct their own care.
Professionalism and High Ethical Standards
THS will demonstrate highest levels of professionalism based on ethical standards of care that build public trust in the organization as a whole.
Innovation through Collaboration and Teamwork
THS is committed to supporting on-going innovation built on internal teamwork and collaboration with stakeholders.
Responsibility and Accountability
THS is committed to demonstrating responsibility and accountability for maintaining the highest levels of care.
THS will demonstrate fiscal responsibility in its operations.
Openness and Transparency
THS will maintain transparent processes and open communications.
Word From Our CEO